The London Marathon takes place on Sunday 26 April 2015 and the water is being provided once again by Nestlé. Recently it has used the event to promote its Pure Life brand of water. This year, as in earlier years, it is Buxton water.
Nestlé is trying to improve its image as it is embroiled in controversy over its water bottling activities around the world. A current focus is California where Nestlé is bottling water during the drought, reportedly without a valid license to do so.
Campaigners in Canada have also protested about Nestlé extracting water, including demonstrating against Nestlé Chairman, Peter Brabeck-Letmathé, being awarded an honorary degree by the University of Alberta in 2012. In a gesture of contempt for protesters, Nestlé's sponsorship deal for the London Marathon this year includes renaming Canada Water underground station after its bottled water brand.
Baby Milk Action's Campaigns Coordinator, Mike Brady, raised the issue directly with Nestlé Chairman, Peter-Brabeck-Letmathé, at the Nestlé shareholder meeting last week (16 April), which he attended mainly to raise Nestlé's aggressive marketing of baby milk. Mr Brabeck is infamous for suggesting that people do not have a right to water (comments he has more recently tried to modify).
Mike Brady told Mr Brabeck in front of 2,446 shareholders that despite his efforts to rebrand the company as a Nutrition, Health and Wellness company many people see it as a "Malnutrition, death and water stealing company". Nestlé was voted the "least ethical company of the last 25 years" by readers of Ethical Consumer magazine in 2014.
Protests in the past over Nestlé promoting its Pure Life brand at the event led the previous London Marathon Chief Executive  to promise a review when the contract was up for renewal (leaflet shown above – pdf).
Mike Brady said:
"The London Marathon is a great event, involving elite athletes, people running for charity and those just wanting to be part of it. It takes a lot of organising and they need sponsorship, but I wish they would introduce an ethical policy. When we asked the Chief Executive about this during the Pure Life controversy, he refused to provide any information, despite the Charity Commission calling for transparency. The argument was the marathon is run by a company and then passes the proceeds to a separate Charity, so it is not bound by transparency rules. All the same, I believe the runners and volunteers taking part and the people campaigning against Nestlé extracting water from their communities deserve a more principled approach to sponsorship. It is ridiculous that the promised review has just changed one Nestlé bottled water brand for another."
Nestlé bottles Buxton Water in the Derbyshire town of Buxton. Baby Milk Action exposed how Nestlé gave the past Member of Parliament, Tom Levitt, gifts such as free tickets to the Wimbledon Tennis tournament and a trip to South Africa. Mr Levitt then defended Nestlé over its baby milk marketing practices. (Such gifts are not restricted to the UK – the forthcoming feature film Tigers, based on the true story of a Nestlé whistle blower in Pakistan, shows similar tactics used to promote Nestlé's baby milk).
Nestlé's Pure Life brand was promoted at the Marathon under a contract covering several years. It was launched in Pakistan in 1999, following a series of seminars organised by Nestlé PR company that suggested urban water supplies were contaminated and other bottled water tainted. Nestlé later distanced itself from the seminars. The Managing Director of the Lahore Water Supply Company was quoted in the Wall Street Journal: "These foreign companies are misleading the people to make money."
Nestlé launched Pure Life water in Brazil shortly afterwards, demineralising water from a spring in the water park in the historic spa town of São Lourenço, which had an adverse impact on other springs and the tourism industry, leading to a mass petition which prompted a civil public action by the public prosecutor. Nestlé eventually stopped bottling Pure Life in São Lourenço, settled the case out of court under threat of daily fines and providing compensation to the town by refurbishing the water park.
Abbott is another controversial sponsor of this year's marathon. It has been exposed for pushing baby milk in violation of UN marketing standards.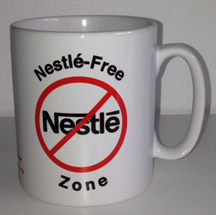 Nestlé is the largest baby food company and the target of a boycott due to the scale of its malpractice. Current marketing strategies include promoting infant formula with the claim it 'protects' babies and is the 'gentle start'
Nestlé's baby milk marketing was also raised by Mike Brady at the Nestlé shareholder meeting on 16 April, when he showed shareholders a picture of a child that died after becoming sick through unsafe formula feeding, one of the case studies in a 2014 report from the Bangaldesh Paediatric Association. Mr Brabeck refuses to change company marketing strategies, despite knowing that babies fed on formula are more likely to become sick than breastfed babies and, in conditions of poverty, more likely to die.
Mike Brady said, "I suggested to shareholders they might like to think about the human cost of the policies Mr Brabeck pursues before re-electing him as Chairman. They re-elected him anyway, but they cannot claim they did not know."
Nestlé tells investors its 'gentle start' claims, as used in Bangladesh, are a 'growth engine' for formula sales.
Baby Milk Action is appealing for donations to help fund its work.
Mike Brady ran a half marathon last year to raise funds for Baby Milk Action.
Editors can contact Mike Brady at info@babymilkaction.org