TOMORROW –  October 11th –  is World Obesity Day
see World Obesity for a host of useful  statistic
See also this article in the Guardian:
Global obesity rise puts UN goals on diet-related diseases 'beyond reach'
Westernised diets blamed as figures predict failure to meet 2025 target of no increase in obesity or diabetes beyond 2010 levels
"What we have seen is, on the WHO's own estimates, a pretty dramatic increase from 2010 to 2014," says Dr Tim Lobstein, WOF's director of policy. "On their own figures, they are shooting upwards and if we were to carry on without doing anything, things can only get dramatically worse."
Behind the world's weight gain is the rapid transition from traditional foods, often grown in the community, to modern urban diets – and especially the take-up of sugary soft drinks and snacks. Increased sedentary behaviour is also a major issue.
"… Child obesity figures are also rising in many developing countries, particularly in the Middle East, Latin America, China and parts of south-east Asia…"
A big problem is the assumption that children in developing countries are under-nourished and need more calories. Even where that has been true, says Lobstein, giving children highly calorific sugary drinks and snacks is not the answer. In Mexico, which has some of the highest levels of child obesity in the world, in 2012 the two largest contributors to children's energy intake were milk – much of it sweetened milk drinks – and sugar-sweetened soft drinks.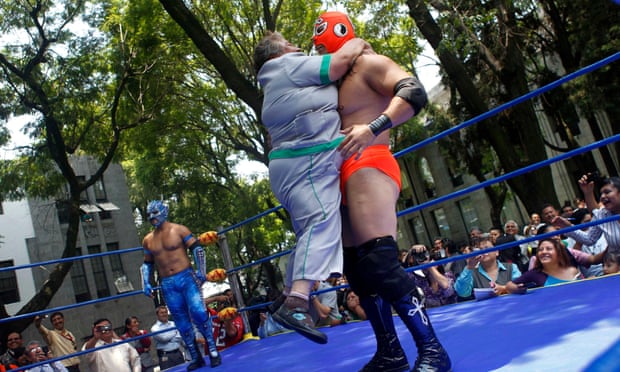 Many children in the Middle East do not eat breakfast, surveys show, which leads to unhealthy snacking during the day. "A survey among pre-school children in Jordan found more than 50% consumed carbonated sugary beverages, and 71% regularly consumed biscuits and cakes, and 76% confectionery," says Lobstein. "These children also consumed other sugar-sweetened soft drinks, a high quantity of desserts, and tea with sugar.
The WOF blames the multinationals, known as Big Food. "Their marketing strategies are to reach further and further into developing countries, to find ways they can increase their market share amongst even the lowest income populations," 
–