Have you seen posters or been given leaflets promoting follow-on formula or growing-up and toddler milks?
We have evidence of companies paying nurseries to display these – are they targeting children's centres too?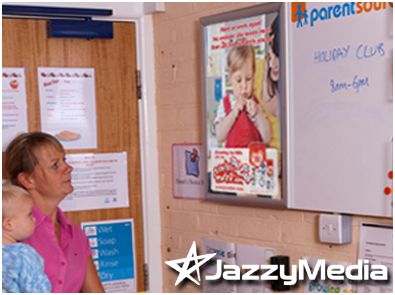 If you work at a children's centre, have you been invited to attend a company 'study day'?
This is a company strategy to promote brand names and products to health workers.
Baby food companies make misleading claims about their products to boost sales.
The Advertising Standards Authority has upheld complaints about false advertising from Danone and Nestlé.
For example, they give the impression that babies have to be fed on growing up milks or their health could suffer.
False claims about Nestlé SMA Toddler Milk: A14-263404.
False claims about Danone's Growing-up Milk: A13-238372.
Contact us if you find these or other companies active in your area.
Say NO to formula company sponsorship and look to independent information.
See our poster with independent sources of information.
As an alternative to misleading claims from formula companies, you could display our breastfeeding calendar.
Or show that you 'Say NO to formula company sponsorship' with a fridge magnet or mug.