STOP PRESS:
  "Press release IDEC wins over Nestlé, 4 July2022
 Court orders Nestlé to clearly signal the difference between infant formulas and growing-up milks  IDEC filed a lawsuit against the company for cross-promotion that causes confusion for consumers
It looks like it, but it's not: Justice determines that Nestlé includes warning on packaging of dairy compounds – Preliminary decision establishes a fine of one thousand reais per can that does not have the sticker after the 60-day period"
____________________________________________________________________
https://idec.org.br/noticia/idec-vai-justica-contra-nestle-mead-johnson-e-danone
Idec sues Nestlé, Mead Johnson and Danone for the 'Game of 7 Mistakes'

Institute filed Public Civil Action against companies for marketing that causes confusion between infant formula and dairy compounds; collective indemnity claim is R$ 60 million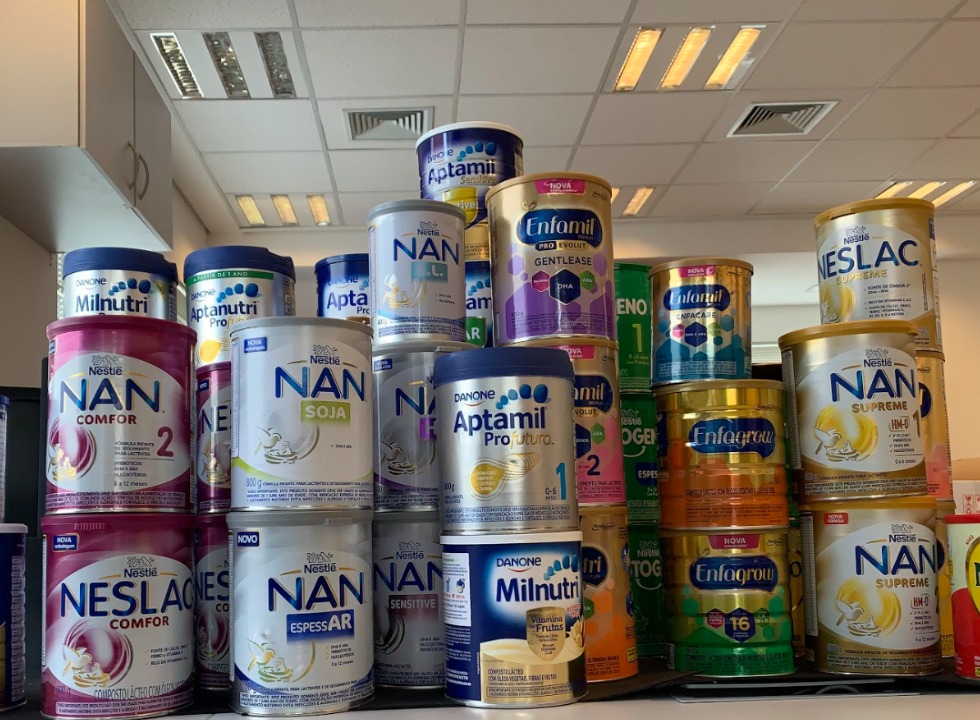 In late May, the Brazilian Institute for Consumer Protection (Idec) filed a Public Civil Action (ACP) against Nestlé Brasil, Mead Johnson Brasil and Danone, asking for accountability for cross-promotion. The companies maintain similarities between the packaging of infant formulas — whose commercial promotion is prohibited or restricted — and that of dairy compounds, according to the piece presented to the São Paulo Court of Justice. Idec argues that this type of strategy causes confusion, deception and harm, especially for fathers, mothers, caregivers and young children.
The lawsuit shows that characteristics such as colors, packaging format, font type or name prefixes and suffixes are repeated both in infant formulas and in dairy compounds from the three companies. The piece says that this type of communication leads consumers to have to face a true "game of 7 mistakes" to identify hidden differences. Furthermore, it is not uncommon for the two products to be placed together on the shelves of the places where they are sold, despite the distinctions. Infant formulas serve to replace, in whole or in part, breast or human milk, when there is a need. Their use, however, must be exceptional and depends on the diagnosis of specific conditions, as well as a professional prescription.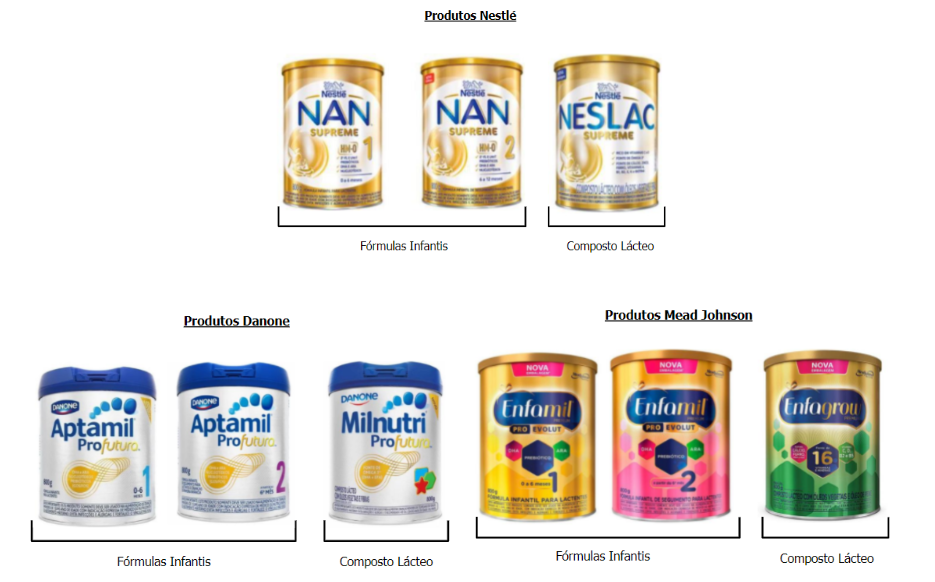 The sale is regulated by Law nº 11.265/2006, known as the Brazilian Standard for the Commercialization of Foods for Infants and Young Children, Nipples, Pacifiers and Bottles (NBCAL), which prohibits the promotion of infant formulas intended for children aged 0 to 1 year and restricts the promotion of products intended for children up to 6 years old. Inspection is carried out by consumer protection and health surveillance agencies, including the National Health Surveillance Agency (Anvisa). Dairy compounds, in turn, are ultra-processed foods, whose composition must contain at least 51% dairy ingredients, while the remaining 49% can vary, for example, between vegetable oils, fish oils, canola, soy, sugar, constituted milk and substances that improve palatability, such as food additives. Their sale is regulated by a normative instruction from the Ministry of Agriculture, Livestock and Supply (Mapa). The Ministry of Health contraindicates the offer of the product to children under 2 years of age, due to the presence of sugar and food additives
Idec notes that making the labels of both products similar has one objective: to associate two different goods to encourage consumers to migrate from purchasing one product to the other. This practice, however, violates the Consumer Defense Code (CDC), by incurring misleading and abusive advertising and disrespecting the right to adequate information. It also violates maternity protection laws and disrespects the Federal Constitution. The arguments of the lawsuit are endorsed by an attached technical report that analyzed characteristics of infant formula packaging and dairy compounds, concluding that there is no justification for such similarities. "It remains clear and evident that the strategy of the companies in question is deliberate to mislead the consumer", comments Igor Britto, director of Institutional Relations at Idec.
"With the similarities on the labels, companies lead us to believe that an item that can only be used under prescription, infant formula, is similar to an ultra-processed food, which is harmful to health, the dairy compound", adds nutritionist Laís Amaral. , researcher at the Healthy and Sustainable Food Program at Idec.
Conviction and illegalities
The lawsuit asks that Nestlé, Mead Johnson and Danone be ordered to stop presenting infant formulas and dairy compounds in similar packaging and to highlight the differences between the products. In the meantime, the piece requests that an adhesive insert be placed on the labels, alerting consumers and calling attention to the distinctions between the two goods. 60 million in collective moral damages and that the practice of cross-promoting these products be recognized as illegal. Idec also asks companies to individually indemnify consumers who have made a mistake due to confused communication. According to the piece, the conduct of Nestlé, Mead Johnson and Danone also disrespects the rights to freedom, information, consumer protection, health, safety, food and protection of motherhood and childhood, as provided for in the Constitution. The practice, according to the lawsuit, still violates the NBCAL and can indirectly encourage the early abandonment of breastfeeding. to refrain from promoting other of their wares to babies and young children. "The practice of cross-promotion (…) is a threat to breastfeeding and child health", says the WHO
Other actions
In early April, Idec sent a representation against Brasal Refrigerante S.A, manufacturer of the Del Valle Fresh line to Procon of the Federal District (DF). The entity pointed out that the beverage label contains images that mislead the consumer, as they imply that the product is made from fruit, and that food makes up less than 1.5% of the drink, in fact. The Procon of the Federal District and other states, such as Rio de Janeiro and Santa Catarina, started procedures to investigate the complaint. Complaints such as these are the result of Idec's work through the OPA (Observatory of Food Advertising), a platform where consumers may report food advertisements that contravene current regulations. The observatory aims to strengthen consumers' right to adequate information, supporting the identification of illegal food advertisements and facilitating their reporting to Organs competent bodies.
_______________________
Idec vai à Justiça contra Nestlé, Mead Johnson e Danone
Instituto entrou com Ação Civil Pública contra empresas por marketing que provoca confusão entre fórmulas infantis e compostos lácteos; pedido de indenização coletiva é de R$ 60 milhões
O Instituto Brasileiro de Defesa do Consumidor (Idec) protocolou no final de maio uma Ação Civil Pública (ACP) contra a Nestlé Brasil, a Mead Johnson Brasil e a Danone, pedindo a responsabilização por promoção cruzada. As empresas mantêm semelhanças entre a embalagem de fórmulas infantis —cuja promoção comercial é proibida ou restrita— e a de compostos lácteos, segundo a peça apresentada ao Tribunal de Justiça de São Paulo. O Idec argumenta que esse tipo de estratégia provoca confusão, engano e prejuízo, especialmente para pais, mães, cuidadores e crianças pequenas.
A ação judicial mostra que características como cores, formato da embalagem, tipo de fonte ou prefixos e sufixos dos nomes se repetem tanto em fórmulas infantis quanto em compostos lácteos das três empresas. A peça diz que esse tipo de comunicação leva os consumidores a ter que enfrentar um verdadeiro "jogo dos 7 erros" para identificar diferenças escondidas. Além de tudo, não é raro que os dois produtos sejam colocados juntos nas prateleiras dos locais onde são vendidos, a despeito das distinções.
Fórmulas infantis servem para substituir, total ou parcialmente, o leite materno ou humano, quando há necessidade. O uso delas, entretanto, deve ser excepcional e depende do diagnóstico de condições específicas, bem como de prescrição profissional.
A venda é regulamentada pela Lei nº 11.265/2006, conhecida como Norma Brasileira de Comercialização de Alimentos para Lactentes e Crianças de Primeira Infância, Bicos, Chupetas e Mamadeiras (NBCAL), que proíbe a promoção de fórmulas infantis destinadas a crianças de 0 a 1 ano e restringe a promoção dos produtos destinados a crianças de até 6 anos. A fiscalização está a cargo dos órgãos de defesa do consumidor e de vigilância sanitária, incluindo a Agência Nacional de Vigilância Sanitária (Anvisa).
Compostos lácteos, por sua vez, são alimentos ultraprocessados, cuja composição deve apresentar no mínimo 51% de ingredientes lácteos, enquanto os demais 49% podem variar, por exemplo, entre óleos vegetais, óleos de peixe, canola, soja, açúcar, leite constituído e substâncias que melhoram a palatabilidade, como aditivos alimentares. A venda deles é regulada por uma instrução normativa do Ministério da Agricultura, Pecuária e Abastecimento (Mapa). O Ministério da Saúde contraindica a oferta do produto para crianças menores de 2 anos, em razão da presença de açúcar e aditivos alimentares.
O Idec observa que assemelhar os rótulos de ambos os produtos tem um objetivo: associar duas mercadorias diferentes para estimular consumidores a migrar da compra de um produto para o outro. Essa prática, entretanto, viola o Código de Defesa do Consumidor (CDC), ao incorrer em publicidade enganosa e abusiva e ao desrespeitar o direito à informação adequada. Também fere leis de proteção à maternidade e desrespeita a Constituição Federal.
Os argumentos da ação judicial são referendados por um laudo técnico anexado que analisou características das embalagens de fórmulas infantis e compostos lácteos, concluindo que não há uma justificativa para tais semelhanças. "Resta claro e evidente que a estratégia das empresas em questão é proposital para levar o consumidor ao engano", comenta Igor Britto, diretor de Relações Institucionais do Idec.
"Com as semelhanças nos rótulos, as empresas levam a crer que um item que só pode ser usado sob prescrição, a fórmula infantil, é parecido com um alimento ultraprocessado, que faz mal à saúde, o composto lácteo", acrescenta a nutricionista Laís Amaral, pesquisadora do Programa de Alimentação Saudável e Sustentável do Idec.
Condenação e ilegalidades
A ação judicial pede que Nestlé, Mead Johnson e Danone sejam condenadas a deixar de apresentar fórmulas infantis e compostos lácteos em embalagens semelhantes e a evidenciar as diferenças entre os produtos. Enquanto isso não ocorre, a peça solicita que seja colocado um encarte adesivo nos rótulos, alertando os consumidores e chamando a atenção para as distinções entre as duas mercadorias.
Além disso, a ação civil pública requisita que as empresas paguem juntas uma indenização de R$ 60 milhões em danos morais coletivos e que a prática de promoção cruzada desses produtos seja reconhecida como ilegal. O Idec ainda pede que as companhias indenizem individualmente consumidores que incorreram em engano devido à comunicação confusa.
De acordo com a peça, a conduta de Nestlé, Mead Johnson e Danone também desrespeita os direitos à liberdade, à informação, à defesa do consumidor, à saúde, à segurança, à alimentação e à proteção da maternidade e da infância, previstas na Constituição. A prática, segundo a ação judicial, ainda viola a NBCAL e pode incentivar indiretamente o abandono precoce do aleitamento materno.
Assemelhar os dois produtos, ademais, contraria uma recomendação da Organização Mundial da Saúde (OMS), que sugere às empresas fabricantes de fórmulas infantis que se abstenham de promover outras de suas mercadorias para bebês e crianças pequenas. "A prática de promoção cruzada (…) é uma ameaça à amamentação e à saúde infantil", afirma a OMS
Outras ações
No começo de abril, o Idec enviou ao Procon do Distrito Federal (DF) uma representação contra a Brasal Refrigerante S.A, fabricante da linha Del Valle Fresh. A entidade apontou que o rótulo da bebida contém imagens que induzem o consumidor ao erro, por darem a entender que o produto é feito à base de frutas, sendo que esse alimento compõe menos de 1,5% da bebida, na realidade. O Procon do DF e de outros estados, como Rio de Janeiro e Santa Catarina, iniciaram procedimentos para investigar a denúncia.
Denúncias como essas são resultado da atuação do Idec por meio do OPA (Observatório de Publicidade de Alimentos), plataforma em que os consumidores podem denunciar publicidades de alimentos que contrariem as normas vigentes. O observatório tem como objetivo fortalecer o direito dos consumidores à informação adequada, apoiando a identificação de publicidades ilegais de alimentos e facilitando a sua denúncia aos órgãos competentes.