Important new report published by Public Health England
Foods and drinks aimed at infants and young children: evidence and opportunities for action
Public Health England finds some 'healthy' snacks contain as much sugar as confectionery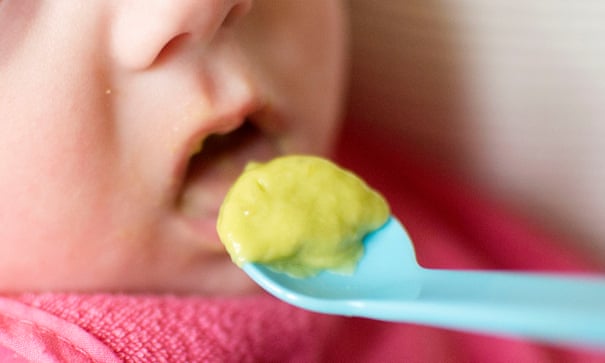 Thu 27 Jun 2019 08.45 EDT
Public Health England has sharply criticised baby and infant food manufacturers for loading their products with unacceptably large amounts of sugar and wrongly promoting them as good for health.
Sugar makes up almost half the content of fruit- and vegetable-based snacks for babies and infants, the agency said in an exposé of the booming baby food market.
"Some baby foods have far too much sugar in them and no one should consider this acceptable', said Dr Alison Tedstone, PHE's chief nutritionist.
She said food companies made so many nutritionally harmful products and breached official guidelines on children's feeding so routinely that they were in danger of losing parents' trust.
PHE highlighted snack foods aimed at young children, especially processed dried fruit, as a particular threat to infants' health. Many foods marketed as healthy snacks were loaded with sugar, it found.
PHE voiced alarm about the content and marketing techniques involved as it launched an analysis of the content of 1,120 baby food and drink products aimed at children aged up to three years.
It said: "Some sweet snacks can contain as much sugar as confectionery. The highest sugar levels are seen in fruit- and vegetable-based [products] (47.5g), and sweet finger foods (17g per 100g)."
Tedstone said: "The baby food industry must be careful not to break the trust of parents." She said the industry was promoting routine consumption of such foods as snacks to be eaten between meals, at the expense of babies' and children's health.
"Early years feeding is crucial in shaping future taste preferences and healthy habits. With children of all ages consuming too much sugar, action is needed to address these practices," she added.
PHE did not name the unhealthiest products it had found. Kiddylicious smoothie melts contained 67.7g of sugar per 100g. In a typical 6g packet, 4.1g is sugar, its maker acknowledges on its website. The sugar comes from the fruits in the melts such as apple, blackcurrants, banana, mango and passion fruit.
Babylicious's website says: "Our smoothie melts only contain sugars that occur naturally in the fruit. Our strawberry and banana smoothie melts are made of 100% pure fruit, which we whizz up and then set into tasty bubbly bites that melt as soon as you put them on your tongue."
Earlier on Thursday the body representing Britain's specialist children's doctors said pouches and jars of baby food often contained excessive amounts of sugar and contributed to tooth decay, poor diet and obesity.
It urged parents to give their offspring more bitter-tasting foods such as broccoli and spinach to help them avoid developing a sweet tooth at such a young age.
The Royal College of Paediatrics and Child Health said so many baby products contained such high sugar levels that ministers should introduce mandatory upper limits.
Tedstone said PHE's review had uncovered some worrying findings, including:
Some of the foods marketed as healthy snacks have the highest sugar content.
Manufacturers are promoting snacking on sweet foods.
Many foods are being marketed as suitable for babies aged just four months, even though official health guidelines say weaning should not start until six months and babies should be breastfed until then.
"This [research] shows the food industry could do more to support parents in making the best food choices for their children. Snacking and sweet foods are being promoted while parents are being encouraged to introduce solids earlier than recommended," Tedstone said.
Calling for widespread reformulation of baby food products, PHE urged manufacturers to improve their nutritional content, ensure they always use "clear, consistent and honest labelling and marketing of products", label products that are high in sugar as unsuitable for eating in between meals, and limit the use of "implied health claims" on baby food products.
PHE concluded: "The available evidence demonstrates there is a need for action, showing that infants and young children are eating too much sugar and salt, and energy intakes are exceeding requirements. Around one in five children aged two to four years are overweight or obese, and 12% of three-year-olds have visible tooth decay."
Dr Kawther Hashem, a nutritionist at the campaign group Action on Sugar, said: "The current state of the UK's baby food market is shocking, with sugar-laden products such as biscuits and wafers making up two-thirds of the baby finger food category.
"Consequently, this encourages snacking from an early age and high exposure to sugary foods which can lead to obesity, Type 2 diabetes and tooth decay. It is imperative that the government tackles this issue head on and enforces the key recommendations in the report."
https://amp.theguardian.com/society/2019/jun/27/snacks-for-babies-and-infants-loaded-with-sugar-says-health-body?__twitter_impression=true
more articles:
https://www.theguardian.com/society/2019/jul/15/who-urges-ban-on-high-levels-of-sugar-from-fruit-puree-in-baby-food