https://www.theguardian.com/society/2016/oct/07/junk-food-shortening-lives-children-obesity-diabetes-data
Junk food shortening lives of children worldwide, data shows
Obesity, type 2 diabetes and high blood pressure at unprecedented levels due to spread of fast food and sugary drinks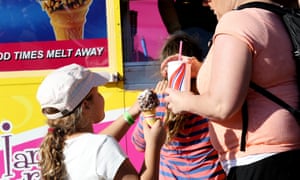 Junk food and sugary drinks are taking an enormous toll on children around the world, with soaring numbers who are obese and millions developing conditions such as type 2 diabetes and high blood pressure previously seen only in adults, data has revealed.
Children were facing crippling illnesses and shortened lives because of the spread of the heavily marketed fast-food culture, experts said, and health services around the world would struggle to cope. They predicted that the UN target to stop the rise of childhood obesity by 2025 would be missed.
The three countries with the highest child obesity rates were the South Pacific island nations of Kiribati, Samoa and Micronesia. Among the more populous countries facing the worst scenarios were Egypt – where more than a third (35.5%) of children aged five to 17 were overweight or obese in 2013 – Greece (31.4%), Saudi Arabia (30.5%), the United States (29.3%), Mexico (28.9%) and the UK (27.7%).
More than 3.5 million children now had type 2 diabetes, which was once unknown in this age group and can lead to horrible complications in later life, such as amputations and blindness. The World ObesityFederation, which compiled the data, predicted that number would rise to 4.1 million by 2025.
About 13.5 million children have impaired glucose tolerance, which is a precursor to diabetes. Around 24 million have high blood pressure and more than 33 million have fatty liver disease as a result of obesity, which is more often associated with alcoholism and can lead to cirrhosis and liver cancer.
If anything, the experts said, the figures were an under-estimate because they were based on the numbers of obese children, and some who were classified as overweight would also have the diseases.
The figures are alarming for rich and poor countries alike, signalling soaring medical bills to treat the coming epidemic of disease. But the WOF experts who compiled the data said that, while rich countries were struggling, poorer countries were ill-equipped to cope.
"These forecasts should sound an alarm bell for health service managers and health professionals," said Tim Lobstein, the policy director of the WOF. "They will have to deal with this rising tide of ill health following the obesity epidemic.
"In a sense, we hope these forecasts are wrong: they assume current trends continue, but we are urging governments to take strong measures to reduce childhood obesity, and meet their agreed target of getting the levels of childhood obesity down to 2010 levels before we get to 2025."
The experts, whose findings were published in the Pediatric Obesity journal, said that by 2025, 49 million more children would be obese or overweight than in 2010 – a total of 268 million, of which 91 million alone would be obese.
Lobstein, one of the authors of the paper published ahead of World Obesity Day next Tuesday, said the food children were eating was at the heart of the problem and that in poor countries, obesity and stunting went hand in hand.
"We find that the large majority of children suffering excess bodyweight are in low- and middle-income countries. Following the recent evidence from the World Bank on the continuing high levels of stunting in children in underdeveloped regions of the world, it is obvious that something is severely wrong with the way our food supplies are developing," he said.
"You cannot replace contaminated water with Coca-Cola or Chocolate Nesquik, or a lack of good meals with a pack of fortified noodles, and still expect children to grow healthily. Breastfeeding is rapidly giving way to infant formula in large areas of Asia where markets have tripled in value in a decade – an area where we have seen some of the most rapid increases in overweight and obesity.
"Stunting and obesity are part of a continuum of poor nutrition, and can be found together in the same communities, the same families, and even the same individual children. Health is a key factor in sustainable development, and healthy food supplies are essential for economic development. Healthy food supplies are also a basic human right for this and the next generation."
The WOF president, Prof Ian Caterson, called for governments to take tough regulatory action to stop junk food companies targeting children.
"The obesity epidemic has reached virtually every country in the world, and overweight and obesity levels are continuing to rise in most places," he said. "Common risk factors, such as soft drink consumption and sedentary environments, have increased. Fast food advertising continues to really influence food choices and what is eaten, and increasing numbers of families live in urban environments without access to space to exercise or time to exercise."
In the last 10 years, consumption of sugary drinks worldwide increased by a third. More than half of the world's population live in urban areas, and 80% of young people aged 11-17 fail to get sufficient physical activity.
"If governments hope to achieve the WHO target of keeping child obesity at 2010 levels, then the time to act is now. Governments can take a number of actions to help prevent obesity, including introducing tough regulations to protect children from the marketing of unhealthy food, ensuring schools promote healthy eating and physical activity, strengthening planning and building rules to provide safe neighbourhoods, and monitoring the impact of these policies."
Additional reporting by Pamela Duncan
https://www.theguardian.com/world/2016/oct/07/egypt-obesity-battle-calories-overweight
Egypt's obesity battle: 'No one cares about calories here'
A diet laden with sugar, meat and carbs coupled with few opportunities for exercise have left 62% of Egyptians overweight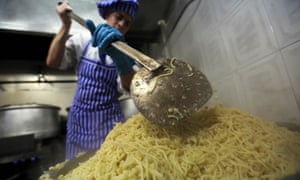 Inside the neon palace that is Koshary Abou Tarek in downtown Cairo, the air smells of fried onions. Plates are heaped high with koshary, a traditional dish containing rice, macaroni and lentils topped with tomato sauce and onions – a filling mainstay across all Egyptian social classes.
An average serving at the restaurant costs the equivalent of £1.80, and contains an estimated 800 calories. The place is filled with families who are given a choice of sugary soft drinks as an accompaniment.
"We don't measure the calories in the dish as no one here cares about that," laughs the manager, Tarek Yossef,. He elaborates on a prevailing theory that while koshary is all carbohydrates, these are somehow removed with the water they are cooked in.
Low to mid-income countries have some of the highest child obesity rates in the world and, Egypt ranks seventh with 32% of children obese, according to datafrom the World Obesity Federation. A diet heavy in meat, carbohydrates and sugar combined with few opportunities for exercise are taking a toll on the Arab world's most populous country.
Nor is obesity bound by social class. Low-income families turn to rice and potato dishes to fill stomachs at the end of a long day. The wealthy, who can afford to eat meat with almost every meal, also have access to fast food, considered a luxury in the Middle East.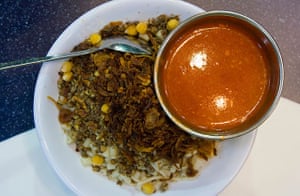 A survey by the World Health Organisation (WHO) covering 2011-12 found that 62.2% of Egyptian adults were overweight, and 31.3% of them were classed as obese.
"This is more than a health issue," said Dr Randa Abou el Naga of the WHO in Egypt, who cites a lack of physical activity as the main driver of obesity.
"City planning is responsible," she said. "There should be proper places for playing sports. Overcrowding in schools also means no sports classes; 75% of Egyptians aren't doing any vigorous physical exercise."
Naga said the Egyptian government could easily switch from subsidising sugar and oil to healthier options such as milk. Kiosks and corner shops throughout the country offer a range of sugary and salty snacks, a cheap option for children and their parents.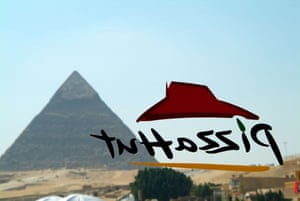 "It might sound like a cliche, but Egyptians really love sugar. It's an addiction," said dietician Dr Sherine el Shimi. "They add sugar in their tea, and have five or six of these per day, each with two or three teaspoons of sugar in. If they just took out the sugar, their lives would be different."
She said most if not all social gatherings revolve around food, and that social pressure to eat more was high. "Plus we also have delivery for everything," Shimi said. For those who can afford it, a burger from one of Egypt's growing number of burger chains can be delivered to your home within an hour.
"Fighting this starts in schools," she said. "I know we're not doing great economically right now, but nutrition classes and subsidising one fruit or vegetable per day per child would given them something they don't get at home."