Update 18 May 2015: Guardian Readers' Editor says Danone-sponsored content "a mistake"
What happens when a newspaper runs content sponsored by corporations?
The following is a case study looking at the new business model being pursued by The Guardian newspaper in the UK as print sales fall. On the one hand, it is inviting individual readers to pay a voluntary annual subscription as partners. On the other, it is working with corporations such as Danone to organise roundtable discussions, from which articles are then published.
The Guardian published an article on nutrition during pregnancy and the first few months post birth on 22 April 2015, sponsored by Danone.
Danone is much criticised for its aggressive marketing of baby foods in breach of UN marketing rules (including in an article in The Guardian in 2013 prior to it working in partnership with the corporation). It is also specifically criticised for attempting to hijack initiatives promoting good nutrition in the 1000 days from conception to promotes its own products. In particular it promotes baby foods for use from too early an age, contrary to Department of Health (DH) and World Health Organisation (WHO) recommendations on exclusive breastfeeding for the first 6 months, followed by the introduction of complementary foods with continued breastfeeding. It also promotes follow-on milks and so-called growing-up milks with the suggestion children need them for essential nutrients, whereas DH and WHO say these products are unnecessary.
As an exercise in media studies, read The Guardian piece in its Society section (22 April 2015 – not yet available online – a rather poor but readable shot of the article is available here).
Some extracts:
What's the best way to improve the health of Britain? For participants at a recent Guardian roundtable, the answer was simple: improve the nutritional health of pregnant women and young children, and the benefits will roll down through the generations.
How to make that improvement was more complicated, although participants at the Danone Nutricia Early Life Nutrition-sponsored roundtable were optimistic that it is possible.
There was broad agreement that opportunities to put out positive messages to parents and parents-to-be were being lost, and one change that would make a huge difference was to encourage better collaboration between government and the food industry. But this partnership was either not happening, or, when it did happen, was being undermined by media negativity.
…
Supporting women to eat well during pregnancy and breastfeeding was especially important because early-life nutrition is so complex that it is not well understood, even by professionals.
…
"There's a lot of confusion over breastfeeding, " said Cooke. "The Department of Health says breastfeed to six months, but baby foods say 4-6 months on the jar."

…
Confusion over whether to wean at four or six months was causing all sorts of problems, and advice at this crucial moment should be made clearer.
Three key messages are the suggestion government should cooperate with the food industry, nutrition if you are breastfeeding is complex and that there is a lot of confusion about how long to exclusively breastfeed (with the implication that the clear guidance from the Department of Health to exclusively breastfeed until 6 months and then continue while introducing complementary foods is wrong).
By way of contrast, read this unsponsored article in the Irish Examiner (23 October 2014): We need milk law legislation to really protects mothers and babies.
Some extracts:
Must get on to Danone and point out that unfortunate confusion [between its 1000 days campaign and a United Nations initiative with a similar name]. Except I think they might just be aware already of the confusion caused by their "First 1,000 Days" global charm offensive. In China the campaign has caused a big stink on social media since China Central TV reported that Danone's Chinese brand Dumex had offered bribes to doctors and medical staff to promote its mother and baby products.
…
Some would say businesses are honour-bound to maximise a return to their share-holders. But the real issue here is how the company has managed to muddy the waters to the extent that it pretends to be a legitimate source of nutritional information. It is revolting that any company would seek to piggy-back on the UN's 1,000 Days campaign in a world where 830,000 babies die every year because they weren't even breast-fed for an hour. You can argue whether the UN project has any place in Ireland or not but it certainly doesn't have any place in the Rochestown Park Hotel with Neven Maguire or in Tesco stores where First 1,000 Days "exclusive goodies" are being handed out or at First ,1000 Days Baby Fair to be held in Belfast next year.
…
The scariest thing of all about Danone's initiative is that it has skilfully infiltrated aspects of the official health sector. 
Considering the contrast between the two articles, what are your views on the following questions:
1. Many health experts will not participate in events sponsored by baby food companies, not least because World Health Assembly Resolutions call for care over conflicts of interest in sponsorship of health workers and health programmes. The participants in the Danone-sponsored event have self-selected as the sponsorship has not been a barrier to their participation (indeed, some of them worked for or with Danone or another baby food company). How might this have influenced the discussion reported in the article?
2. The Guardian article highlights it is sponsored content and states under the Danone Nutrition logo: "This content has been sponsored by Danone Nutricia Early Life Nutrition (whose brand it displays). All content is editorially independent."  It states on The Guardian sponsored content page: "A sponsor whose branding appears on editorial content may have a role in suggesting what kind of topics are covered, but the commissioning editor is not obliged to accept ideas from the sponsor." Danone's Head of Public Affairs took part in the discussion. Would this event and article have taken place, but for Danone, and is it reasonable to say the content is editorially independent?
3. Neither of the authors of the above articles contacted Baby Milk Action about their articles. However, the Irish Examiner cites various sources in criticising Danone's activities.The Guardian article does not critique Danone's comments or refer to the criticism of its 1000 days campaign. Why might this be?
4. The Guardian is generally respected as an independent voice that exposes malpractice by corporations, politicians and others. It won the Pulitzer Prize in 2014 for its coverage of the Snowdon revelations of government spying. Is there a risk its wider coverage of the baby food industry might be influenced by taking on corporate sponsors? (The Guardian has run many critical articles over the years, including on Baby Milk Action's campaigns. Danone-sponsored events and magazine front-cover advertising began after its investigation of Danone in Indonesia in 2013.)
The Guardian invites readers to contact Matt Nathan about its sponsored debates. The Guardian responded to Baby Milk Action's 4 April request for a comment on 23 April.
The World Health Assembly has adopted various resolutions that prohibit baby food companies from targeting pregnant women and mothers of infant and young children (regardless of the pretext) and to protect against conflicts of interest. WHA 58.32 states:
'ensure that financial support and other incentives for programmes and health professionals working in infant and young-child health do not create conflicts of interest.'
This is as relevant to the campaigns Danone is promoting as to The Guardian inviting health experts to this event.
Danone is not the only company attempting to hijack the 1000 days initiative. Baby Milk Action attended the Nestlé shareholder meeting on 16 April 2015 and raised concerns over Nestlé doing the same thing.
Please donate to Baby Milk Action so it can continue as a truly INDEPENDENT voice to challenge corporations such as Danone and Nestlé when they endanger health.
The type of partnerships Danone wishes to pursue includes offering nurseries cash to display posters for unnecessary growing-up milks. The Advertising Standards Authority has upheld complaints about misleading claims made for these products.
Health workers and carers are demonstrating their independence – and helping Baby Milk Action to monitor and campaign – by buying our DanoNO mugs or other merchandise from our Virtual Shop.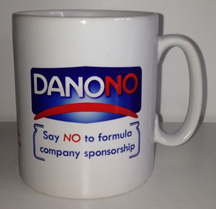 For IBFAN articles including criticisms of Danone hijacking of the 1000 days initiative, see:
http://breastfeedingandhr.blogspot.co.uk/2014_08_01_archive.html
https://lwtdireland.wordpress.com
http://www.ibfan-icdc.org/files/1__Preliminary_pages_5-2-2014.pdf